Food // Israelic Shakshuka – Eggs in Tomato Sauce
17/5/2017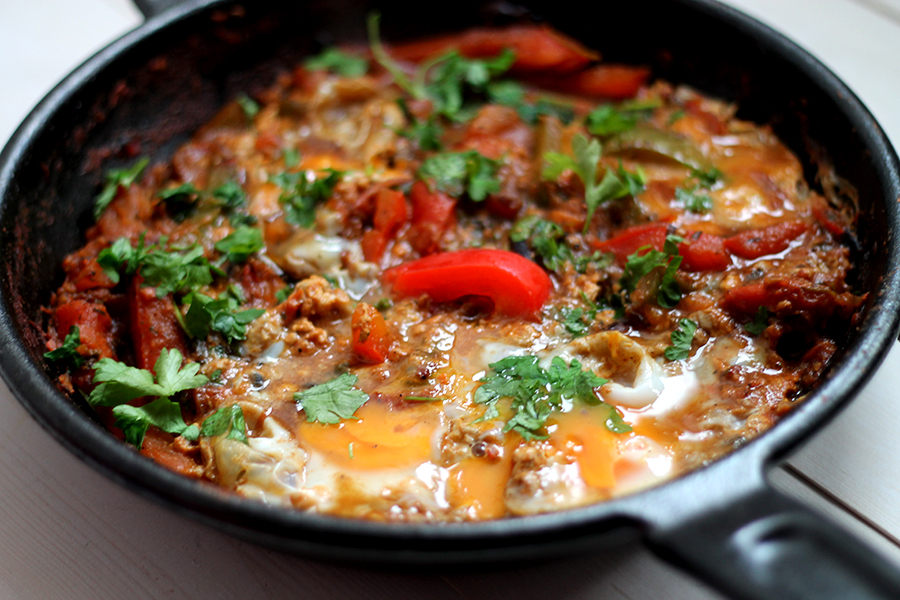 Chock full (or should I say plates full) of ideas I came back from Israel. Every day we ate something that made my day, I tried to remember all the ingredients and wrote everything down in my little travel food notebook. At home, the list was endless… But I knew I had to make Shakshuka first.
I already knew the dish, but I never tried it. During our journey through Israel this changed. Shakshuka everywhere! In Tel Aviv we decided to eat at Dr. Shakshuka. During our preparations for Israel we saw this restaurant passing by many times on different blogs. A must-try. And so it was! After talking to Dr. Shakshuka himself he prepared us a delicious Shakshuka lunch. So simple, so pure, so fingerlicking good!
I made Shakshuka back at home and in my head I was back in Isreal. A must eat, for sure. You can eat this dish for breakfast, lunch or dinner. Enjoy!

Shakshuka
Ingredients
4 eggs
1 can of peeled tomatoes
1 onion
2 cloves of garlic
Half of a red spicy pepper
1 red bell pepper
100 gr kidney beans
1 tsp cumin
1 tsp oregano
1 tsp paprika powder
Handful of chopped parsley
Salt
Olive oil

How to?
Chop the onion and cut the garlic into small pieces. Cut the red spicy pepper in half, remove the seeds and chopp it in small parts.
Fry the onion, garlic and bell pepper with some olive oil. Make sure to use a large, deep pan!
Add all spices and stir for two minutes.
Add the juice of the peeled tomaties to the whole.
Wash off the bell pepper, remove the seeds and cut into thin strips. Bake the bell pepper briefly with the rest.
Add the peeled tomatoes
Add some salt
Make 4 hollows in the sauce and break an egg into each hole. Let the eggs (gently) cook about 10 minutes
Serve the pan at your table and sprinkle the chopped parsley over the whole
Enjoy your Shakshuka!