FOOD // Thai Lunch Salad
28/3/2017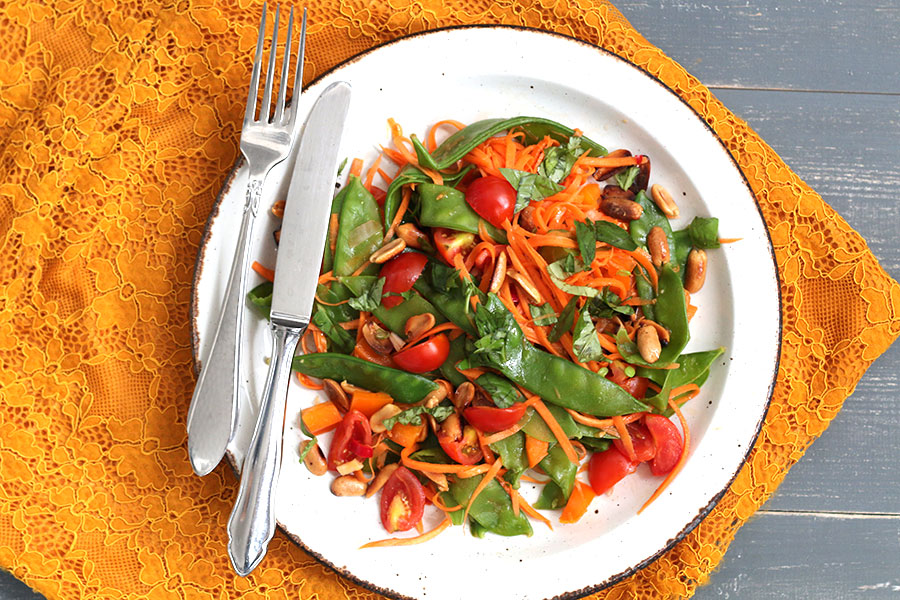 I love an international touch in my recipes! To me, Thai food means spicy in combination with sweet and sour. It's a combination that I find incredibly tasty and refreshing. This Thai salad is ideal to make for lunch, but by adding some extra ingredients it serves a perfect dinner salad too.
Ingredients for two persons
1 carrot
150 g of cherry tomatoes
1 yellow bellpepper
200 g snow peas
1 onion
1 piece of garlic
1/2 red chili pepper
A hand of basil
50 g unsalted peanuts
1 tablespoon of fish sauce
1 tablespoon if Chili sauce
Lime juice of one lime
Salt / Pepper

How to?
1. Clean the snow peas and let them cook for 5 minutes
2. Meanwhile, cut the tomatoes into quarters, the bell pepper, onion, garlic and pepper in pieces and mix together
3. Clean the carrot, scrape off the outside and cut them into thin strips with a vegetable peeler
4. Mix the fish sauce with the chili sauce and the lime juice. Add salt and pepper
5. Grill the peanutes for about 4 minutes
6. Mix all vegetables with the snow peas and most of the peanuts and drizzle with the salad dressing
7. Cut the basil leaves and use it with the remaining peanuts as a garnish for the salad
ENJOY!
Tip: add rice and beef strips to create a dinner salad!