FOOD // De Koffiefilters – How To Make Your Own Coffee Syrup
15/5/2017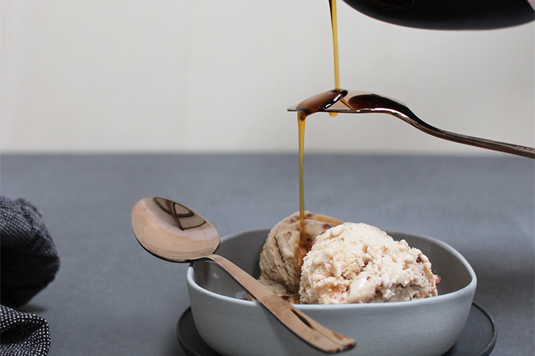 Hi, we are Richt & Regina! We are the strength behind the Dutch concept De Koffiefilters. Stay tuned as we will share the best coffee spots, the best coffee beans, the most beautiful coffee makers, designer crockery and delicious coffee recipes! Today we will share our secret recipe of how to make your own coffee syrup with you. Don't tell anyone!
Make your own coffee syrup
There is always room for a dessert after a good meal, especially for a scoop of ice cream with homemade coffee syrup and sliced almonds!
You can buy ready-to-use coffee syrup in supermarkets but making it yourself it just as fast and actually much more enjoyable. We serve it with a scoop of ice cream, but you can use it to pour over whipped cream or yogurt with granola too. The options are endless and it tastes SO GOOD!
What do you need?
250 ml espresso or strong coffee
200 g sugar
1 to 2 teaspoons potato starch
4 scoops of ice cream
sliced almonds
How to?
– Make an espresso or a cup of strong coffee. Boil the coffee with the sugar so that it becomes a syrupy whole (syrup!).
– Mix the potato starch with a little water and mix the whole with the syrup. Boil the syrup again and continue to stir.
– Let the syrup cool down and pour it in a bottle or a pretty jug.
– Keep the coffee syrup in the refrigerator.
Serve the coffee syrup over your ice cream and garnish with sliced almonds. Hmmm!