FOOD // Pumpkin Salad with Feta Cheese, Couscous and Mushrooms
24/3/2017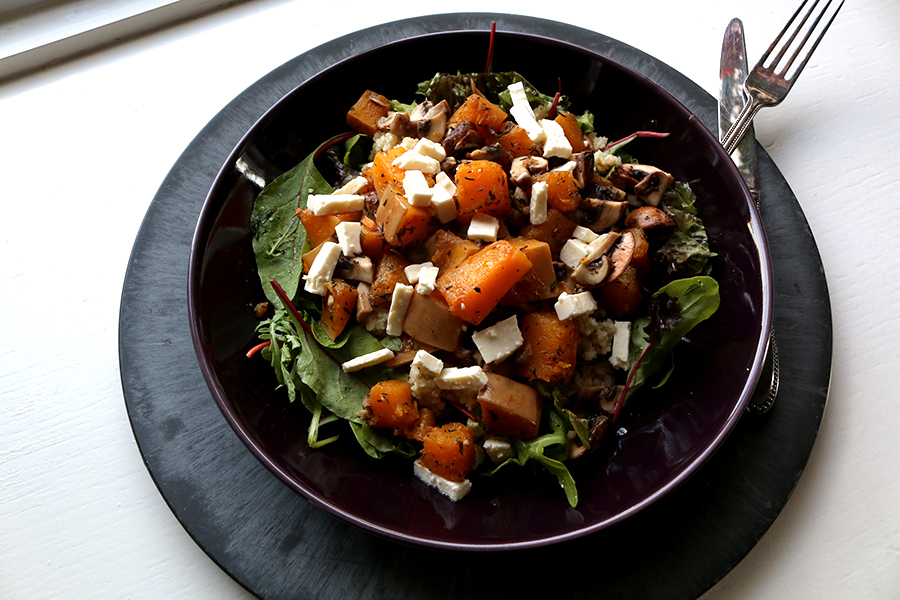 Ingredients for two persons
1 pumpkin
4 tablespoons of couscous
Half cup of mushrooms
Two hands of spinach
Two hands of arugula
A pack of feta cheese (Greek cheese)
A splash of olive oil
Salt & pepper
How to?
1. Cut the pumpkin in half and remove the seeds with a tablespoon. You can choose to remove the skin, but it's quite healthy and you won't notice it in the soup. Cut the pumpkin in square pieces and boil them for 7 minutes.
2. Meanwhile, cut the mushrooms and fry them with a little oil. Add the pumpkin squares when they're ready.
3. Boil the water and put the couscous in a bowl. Add the hot water to the bowl and leave it there for a few minutes.
4. Now cut the half of a feta cheese (paste) in small squares or strips. Grab a large salad bowl and put in the spinach and arugula.
5. Mix the couscous when it's ready (after about 5 minutes) with the pumpkin, mushrooms, feta cheese, spinach and arugula.
6. Mix well and sprinkle the salad with a good splash of olive oil. For flavor, add a good pinch of salt and pepper to the whole.
ENJOY!