Our sneakers are back in new styles and colors!
26/3/2019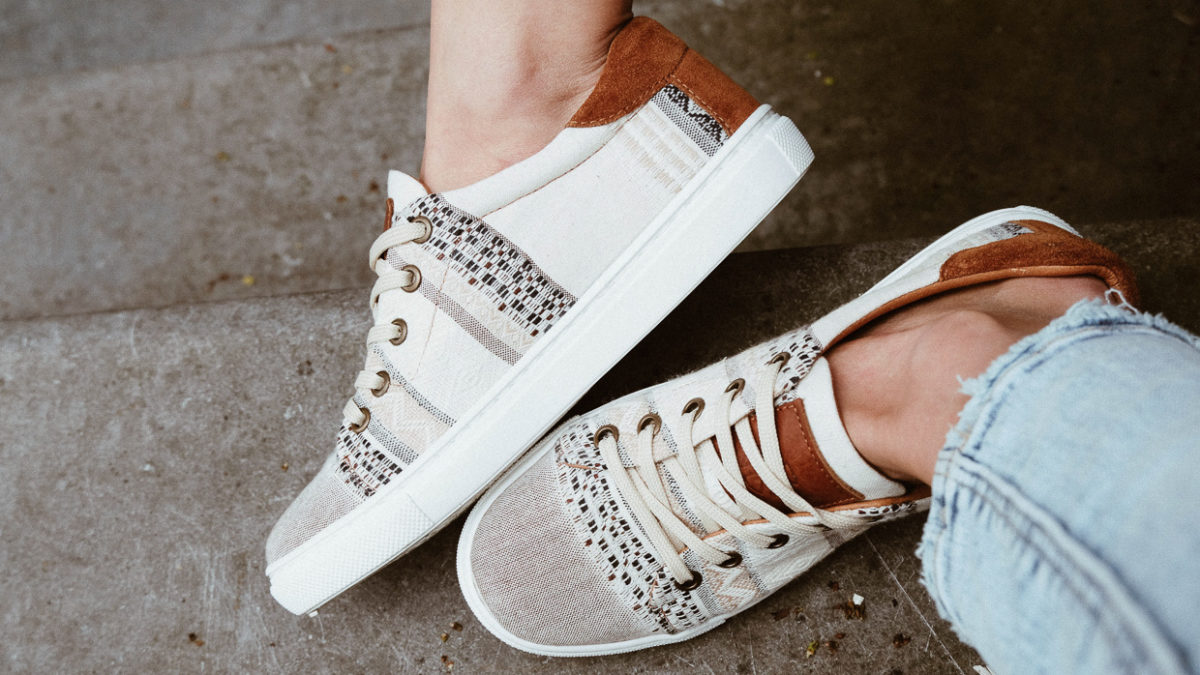 Summertime with June

It's summertime! And with the change in season, you always could use a new pair of shoes. Something practical to get you through the day, but something unique, eye-catching and one-of-a-kind to keep your free-spirited side satisfied. Meet June! She was here with us before but she's back and better than ever, in new styles and colors!

She's Back!
The June's are back and with a little update! We've added new colors like taupe, pink, orange, dark green and mint green. These colorful, handmade sneakers feature our vibrant jacquard fabrics. And the insides are now lined with our new eco leather for ultra-comfort and style all while being kind to the earth! Getting curious? Take a look here!
Our June sneakers also have a comfortable, rubber sole so you can dance, walk and bop around to your heart's content. While being cute, practical and comfortable.
These sneaks are also super lightweight and durable so whether you're chasing after a toddler or chasing your dreams of traveling around the world, you know your June sneakers can hold up to any adventure you take them on!

How to Style the June's
The June sneakers are the perfect shoe to take on long walks, trips to the farmers market and even wearing to your holiday get-together with friends and family. Because they come in so many gorgeous colors and styles, the possibilities are endless! From work to play, the June can be dressed up or down and you'll be comfy, cute and casual the whole day through.

Laid Back Adventurer
If you're the type of girl who loves to be cute and comfortable, the June sneakers are for you! With so many different colors and fabrics, these sneakers will go with almost any cozy look you put together.
Try pairing your taupe June's with your most laid-back, relaxed boyfriend jeans, a plain white tank and a breezy tunic top buttoned up overtop. If you want to give this look a bit more spark, try switching the tunic top out with a cropped jacket. Add a statement belt and your best messy top knot with layers of funky necklaces and rings. Grab a cute clutch or backpack and you're ready for anything!

Brunching Boss Lady
Your favorite accessories are: your iced green tea creme frappuccino? Your cell phone that's always ringing with emails? And your laptop that you can always be found typing away behind the screen. You're a boss lady who keeps things running and you need shoes that keep you running!
Pair our pink June's with stark white, cropped trouser pants, a lacey black tank top. And a structured blazer to demand attention in your 11 o'clock meeting. Paired with sparkly post earrings, a swipe of nude lipstick and that effortless bedhead chic hair and you have the perfect office outfit. Heading to a happy hour with friends afterwards? The June's are the perfect accessory to a cocktail! Swap out your post earrings for large and in charge gold hoops. Throw your hair in a half up, half down bun and switch out your nude lipstick for something that's fiery orangish red. And you're ready to hit the town in style.    

Whimsical Free Spirit
If you're the type of gal who's always got her head in the clouds, dreaming of her next big adventure, these sneakers are a staple to add to your collection! Try pairing them with a mini dress and statement fringy bag for weekend getaway beach trip with friends or rocking out at your favorite music festival. For chillier evenings, throw on your June's with a loose, oversized jumpsuit for the ultimate boho girl chic look. Pair with bold lips and a high pony and you'll be ready for anything.
With Love,
The Kindreds